May 29th, 2014 at 2:54 AM

Ever wanted to create simple promo/advertisement banners like the ones shown
here
? Many administration and promotional forums offer promotional banner services, but if you don't feel like using one of these services, creating a simple one is fairly easy to do. I personally use
Gimp
to create mine. I'm sure there are better tools for simple purposes, but hey, Gimp is free, and it gets the job done.

The first thing you're going to want to do is decide on the size of your promotional banner. I used to do mine at 468x68, but I've switched to 468x60 to be on the safe side nowadays. I've seen larger and smaller banners, but 468x60 seems to be a universally acceptable size for most purposes. Other prep work involves deciding what slogan you want to use, and what icon or icons you'd like to include, etc... As far as icons are concerned,
iconfnder
is where I usually go for mine, although you're gonna want to make sure you check the licensing terms of the individual icons before you use them!
Anyway, without further ado, let's get started!
Step 1
Once your prep work is done, the first thing I usually do is get a screenshot.
CTRL + print screen
is the easiest way to go about this. Then open up paint, and
CTRL + V
to paste the image into a new paint image.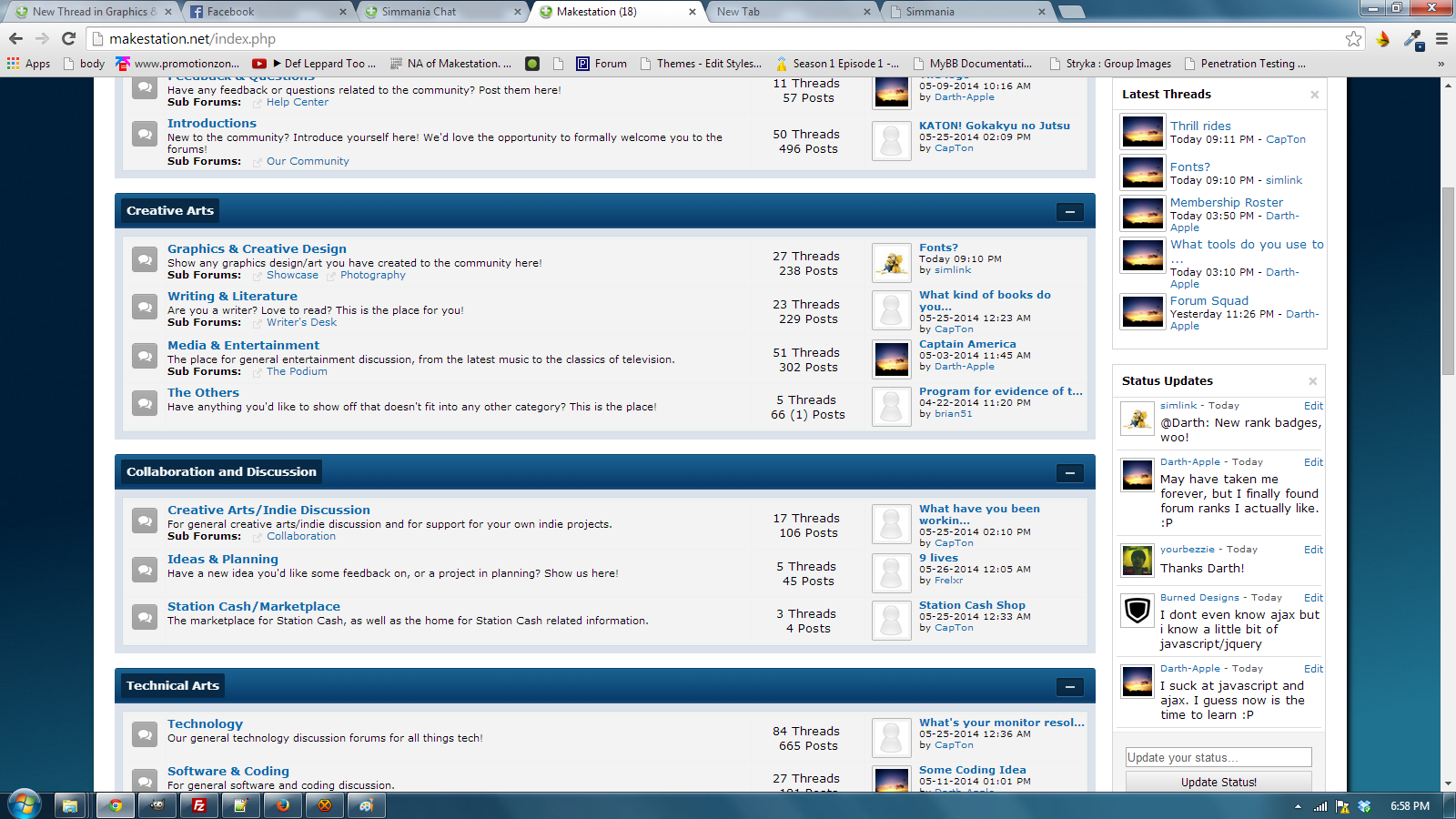 CTRL + prntscr

Once you've pasted the screenshot into paint, crop the selection to something relatively small. I usually eyeball this step, since everything gets scaled and resized later. Once you've completed this step, set this aside for later use.
Step 2: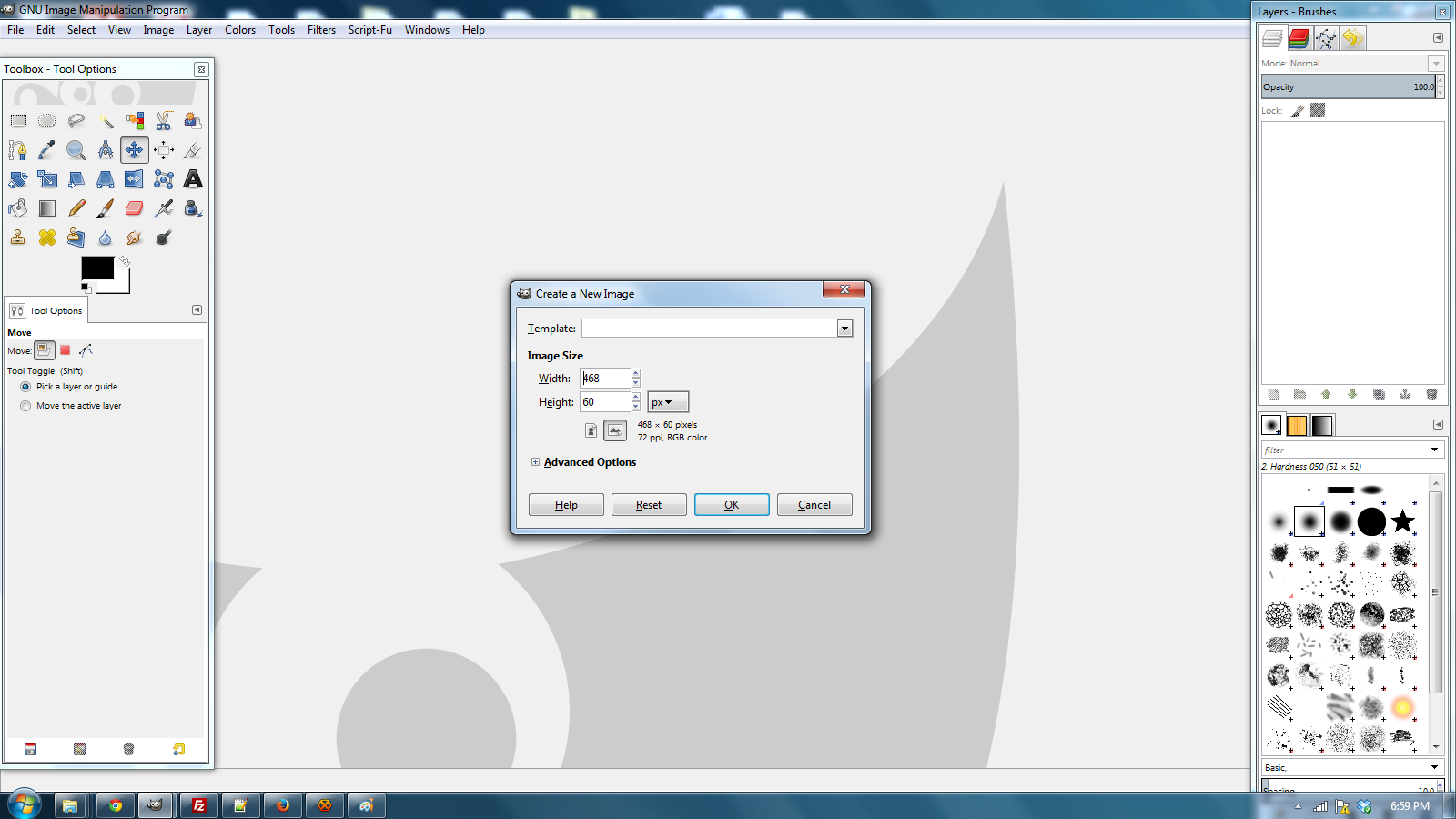 Create a new image in GIMP. You can use any size you'd like. I find 468x60 to be the most practical size, personally.
Step 3: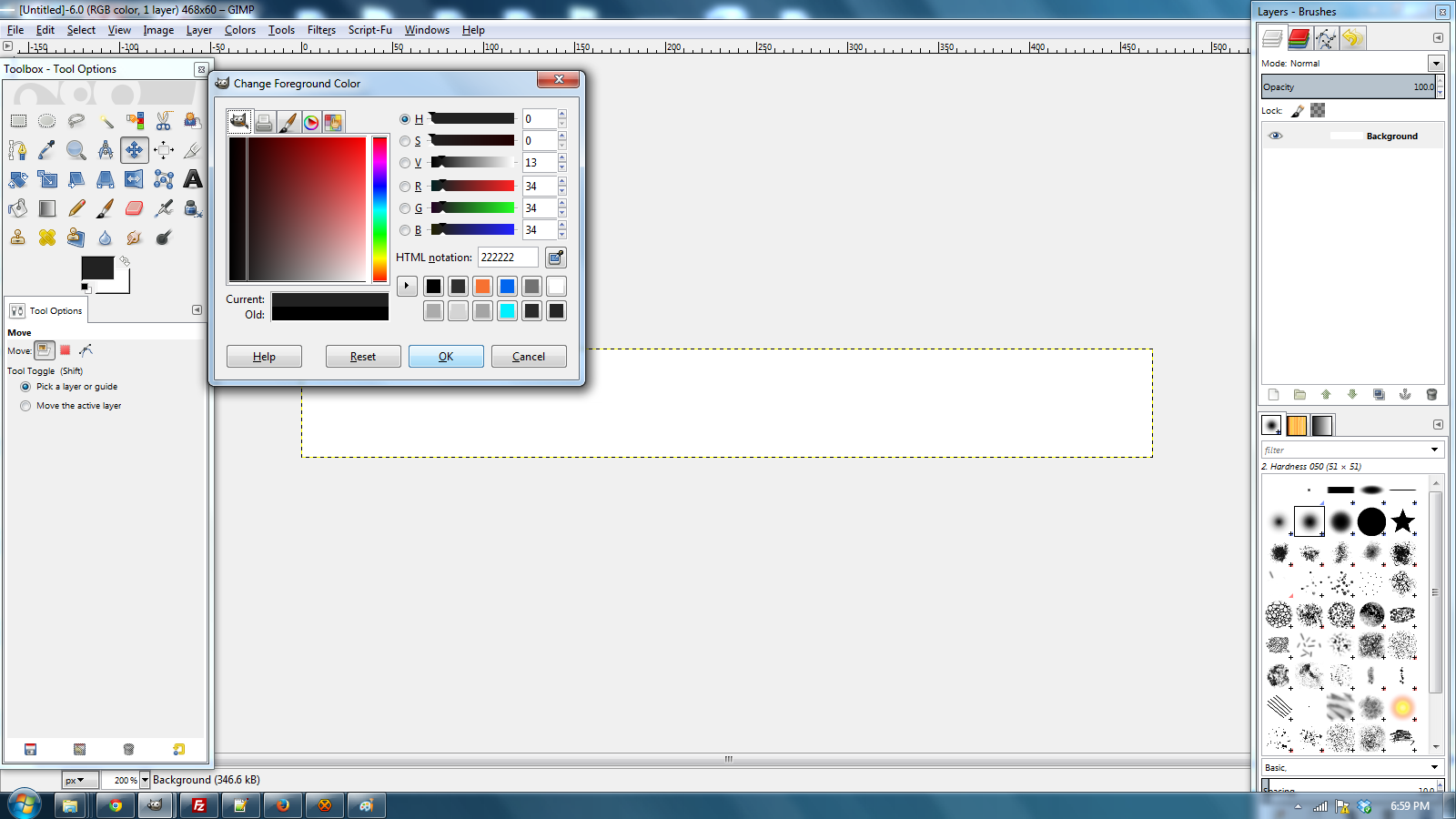 Select a dark grey color. Make sure that it isn't completely black, as we will use black for the border color later. Something dark is usually best.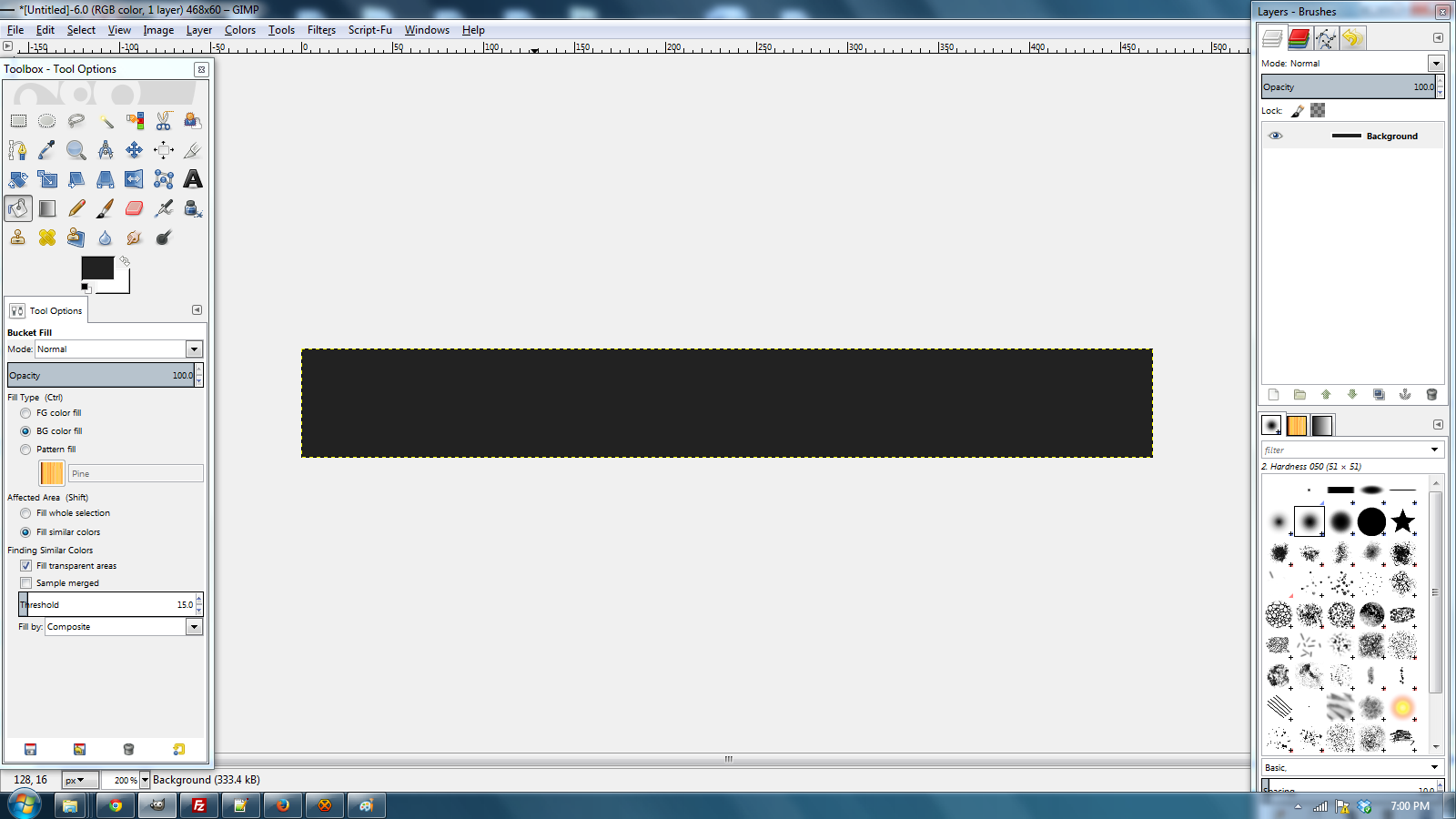 Do a bucket fill across the entire image.
Step 4: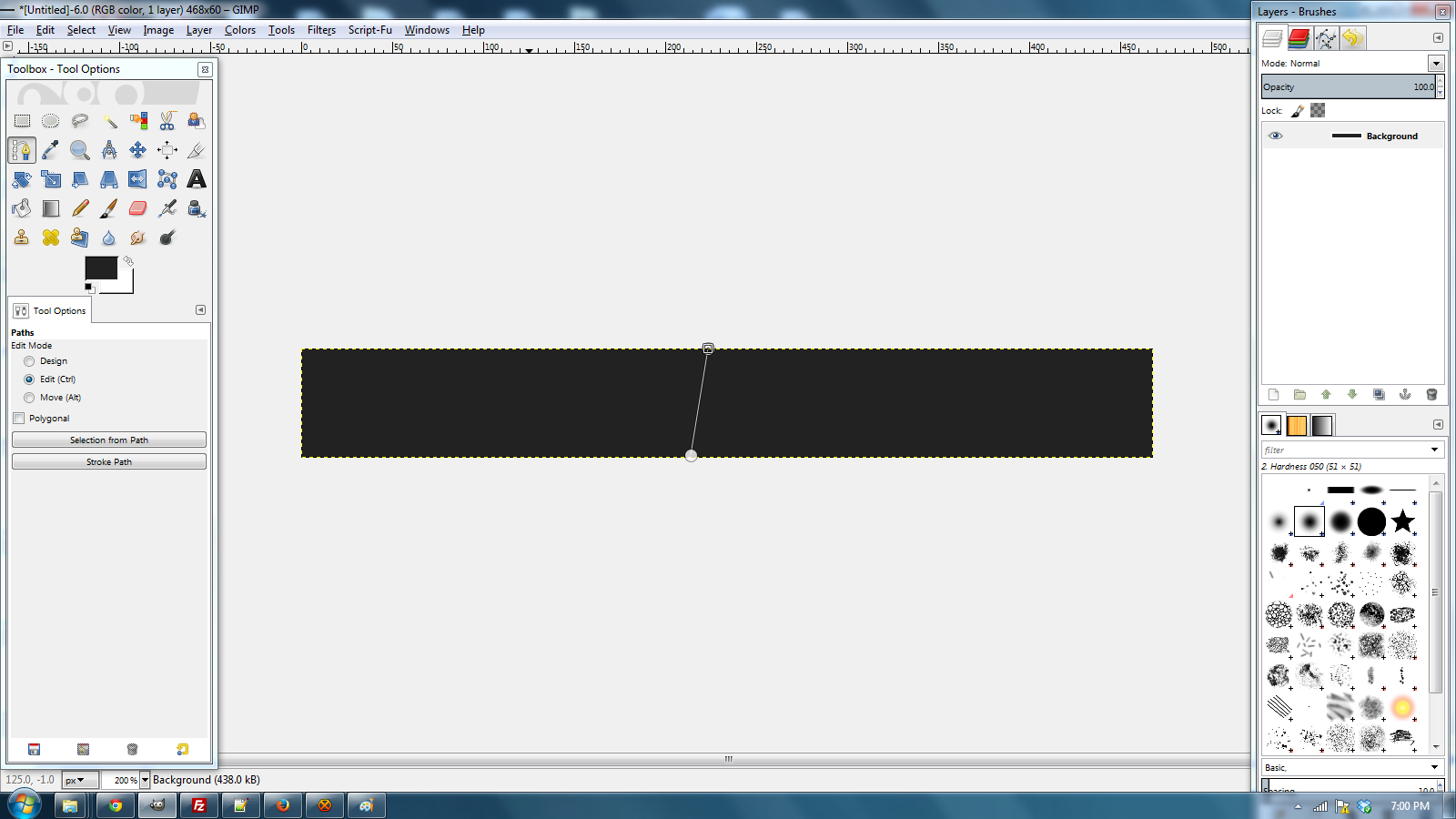 Use the path tool to create a slightly diagonal path across the center of the image.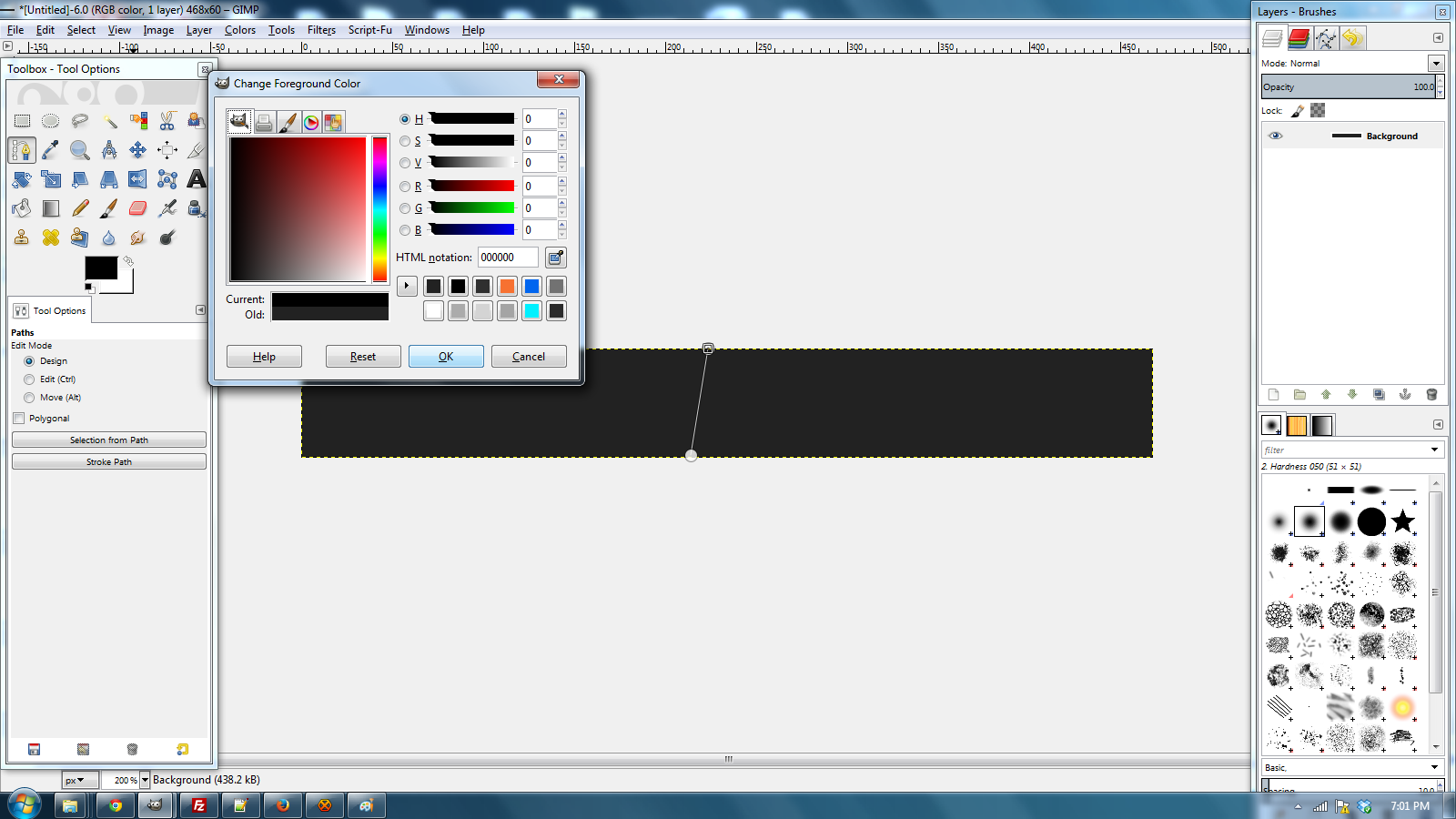 Select the solid black color.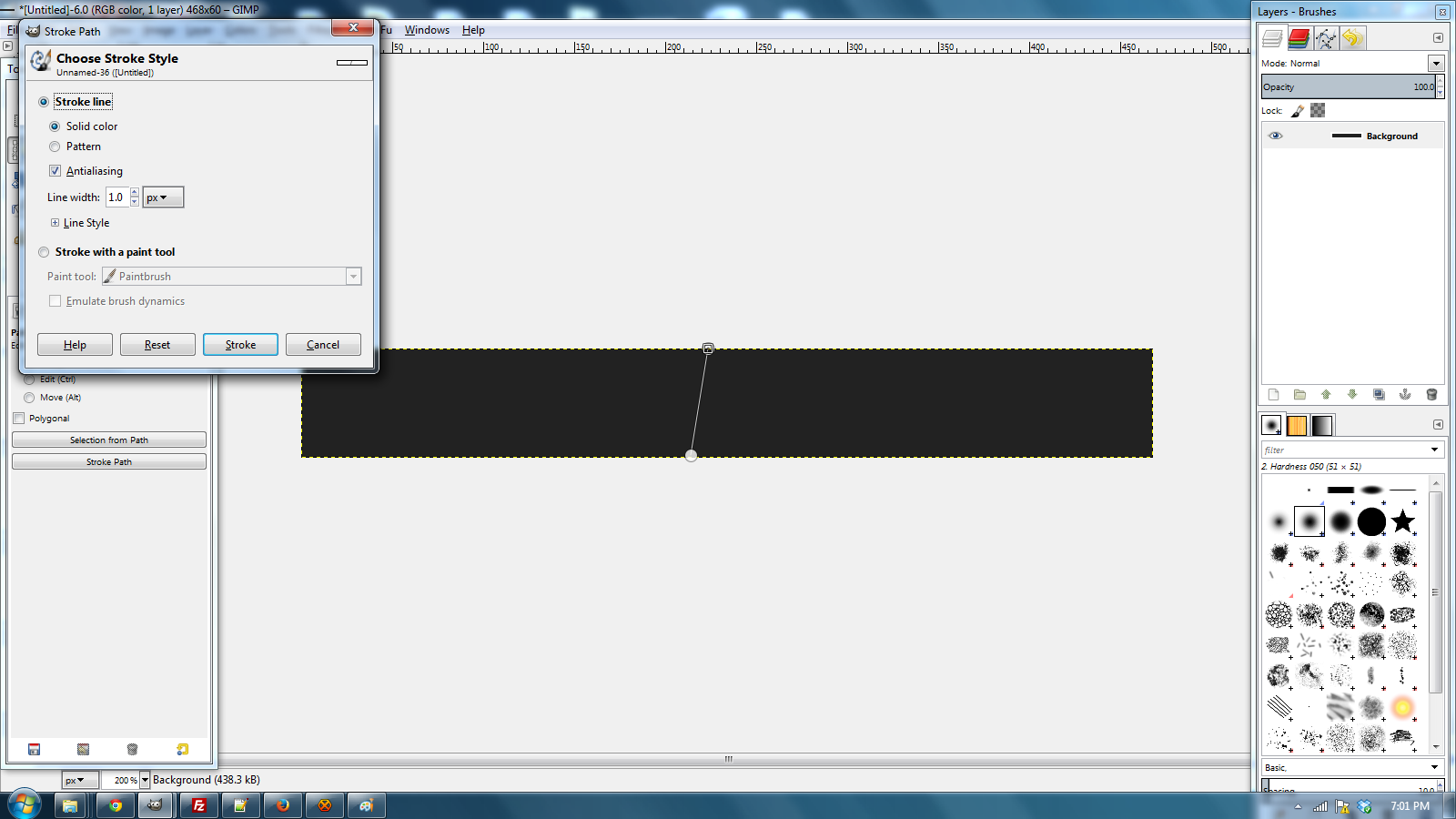 Then use the

stroke path

tool to create a one pixel, black line.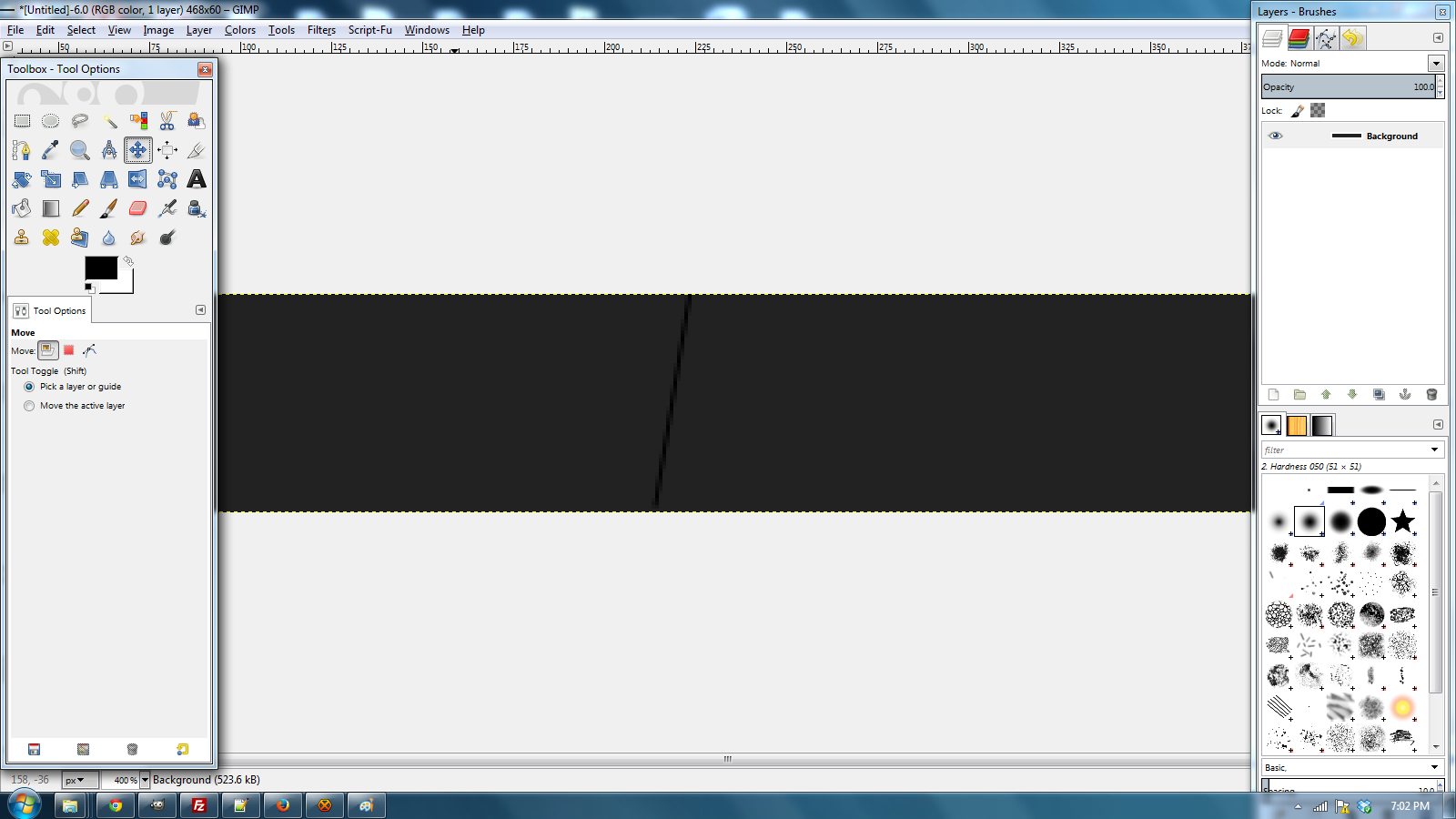 Above: the final result
Step 5: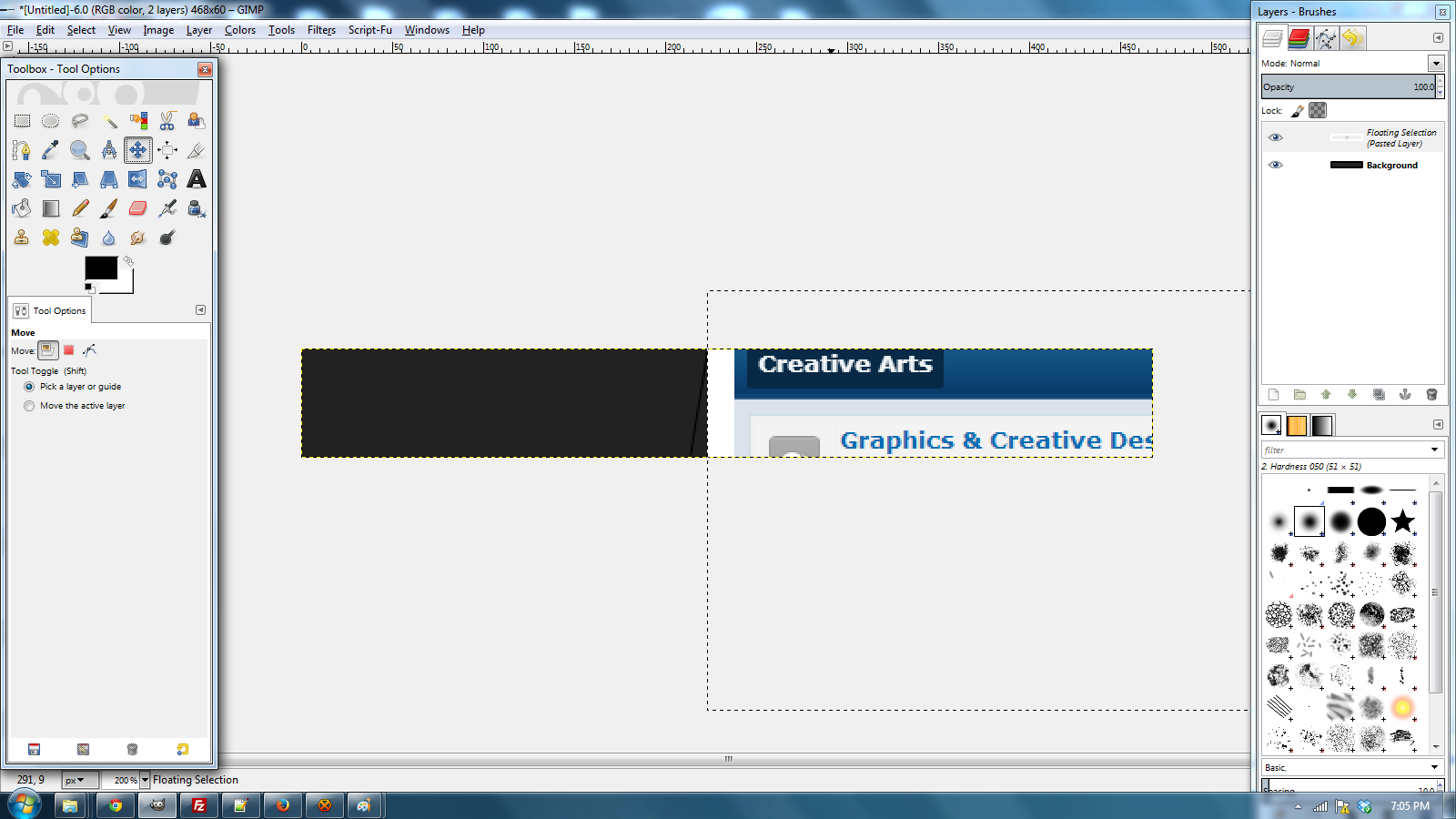 Take the original cropped image that you created in paint, and use

CTRL + A

and

CTRL + C

to copy it. Then

CTRL + V

into GIMP to paste the image, and use the move selection tool to move it towards the right, as shown above.
Step 6: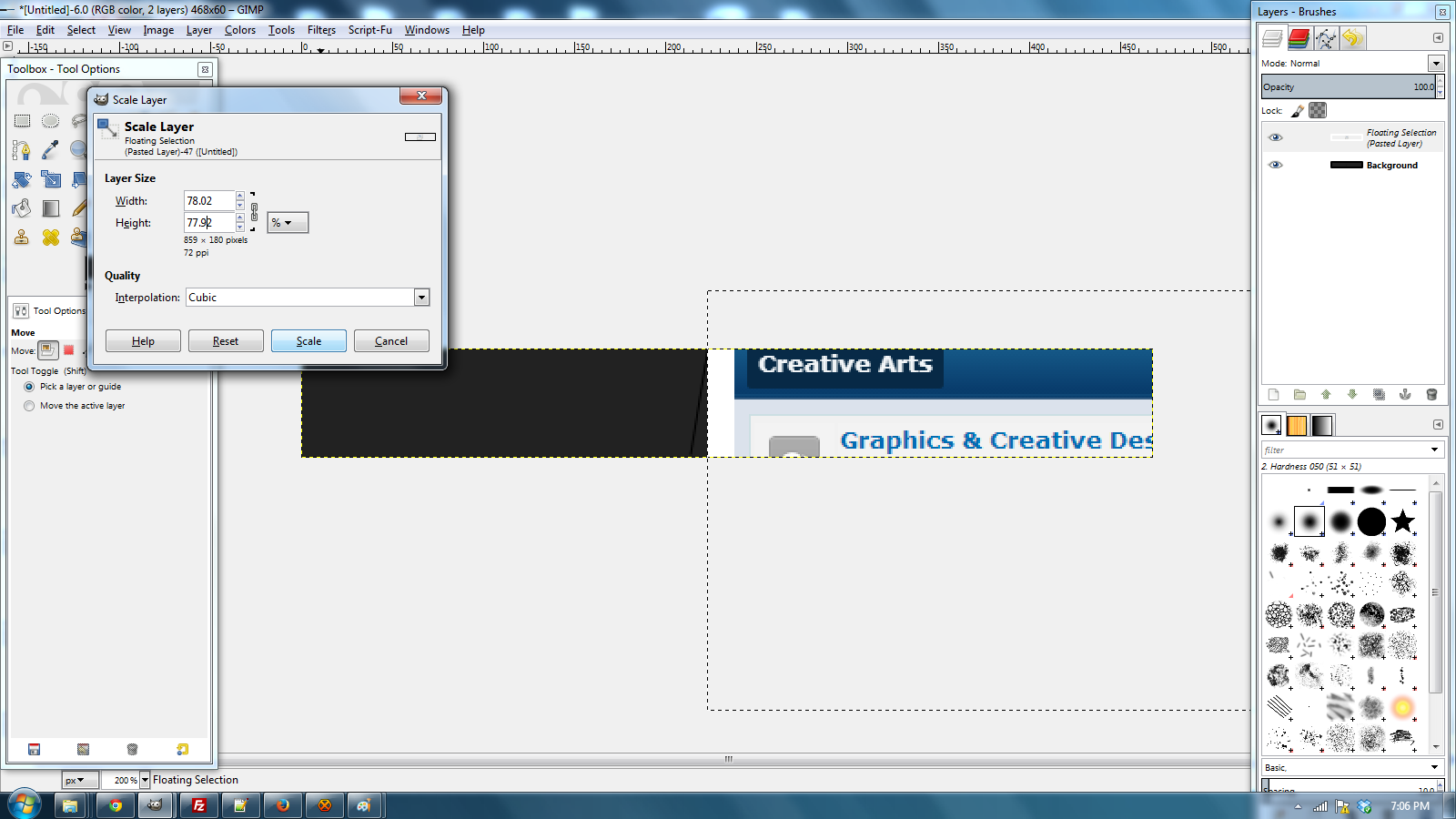 Under

layer -> scale layer

, scale the layer to somewhere around 70-80% of its original size. This is something I usually eyeball, as it doesn't need to be exact. Do whatever you feel looks best for your specific screenshot. (If your website's font happens to be ultra small, it's best not to scale the layer too much.

)
Step 7: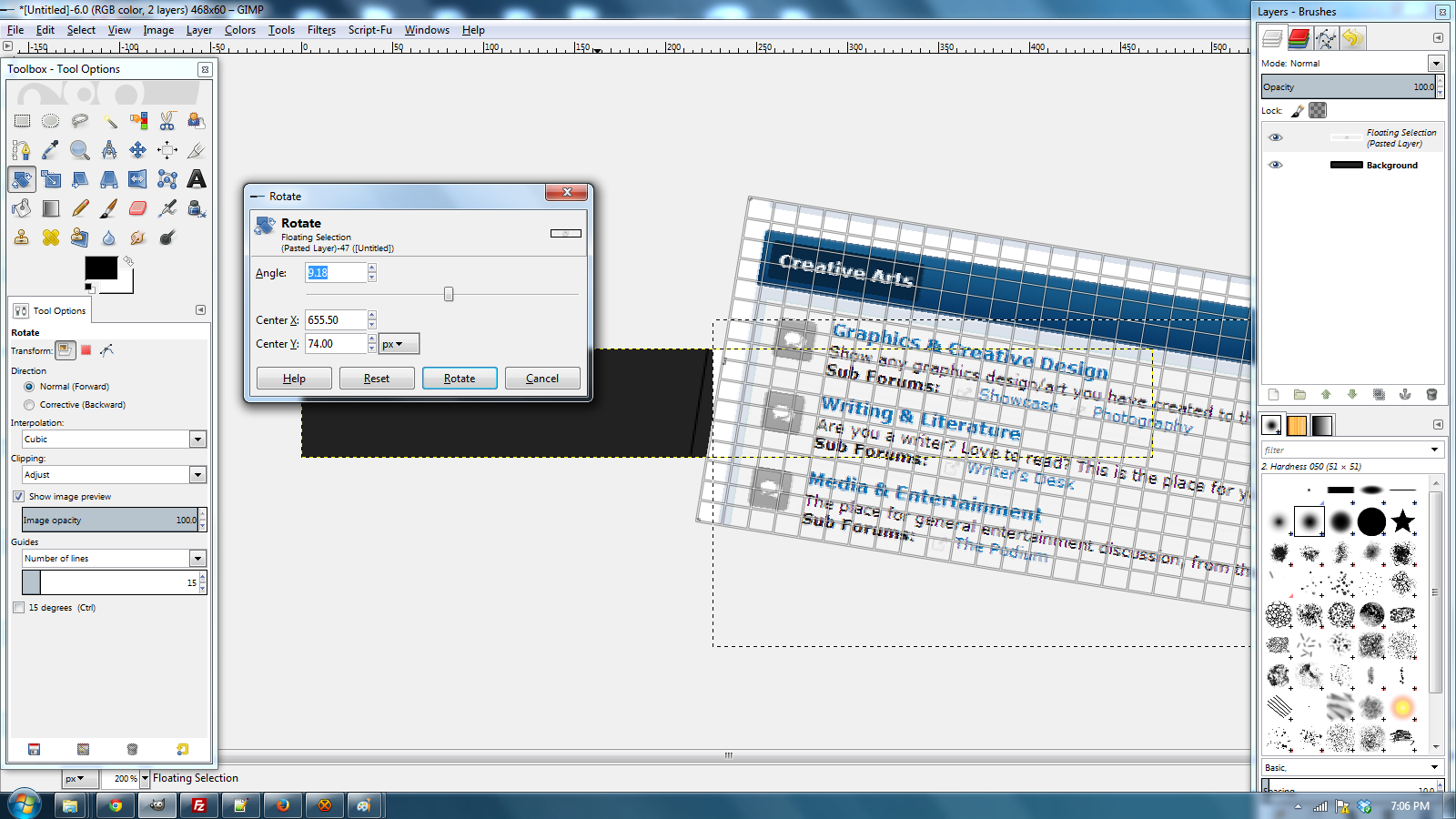 Use the rotate tool to align the scaled layer to the diagonal line that you created earlier. I usually eyeball this as well. You can always adjust this later if you find that it is slightly off.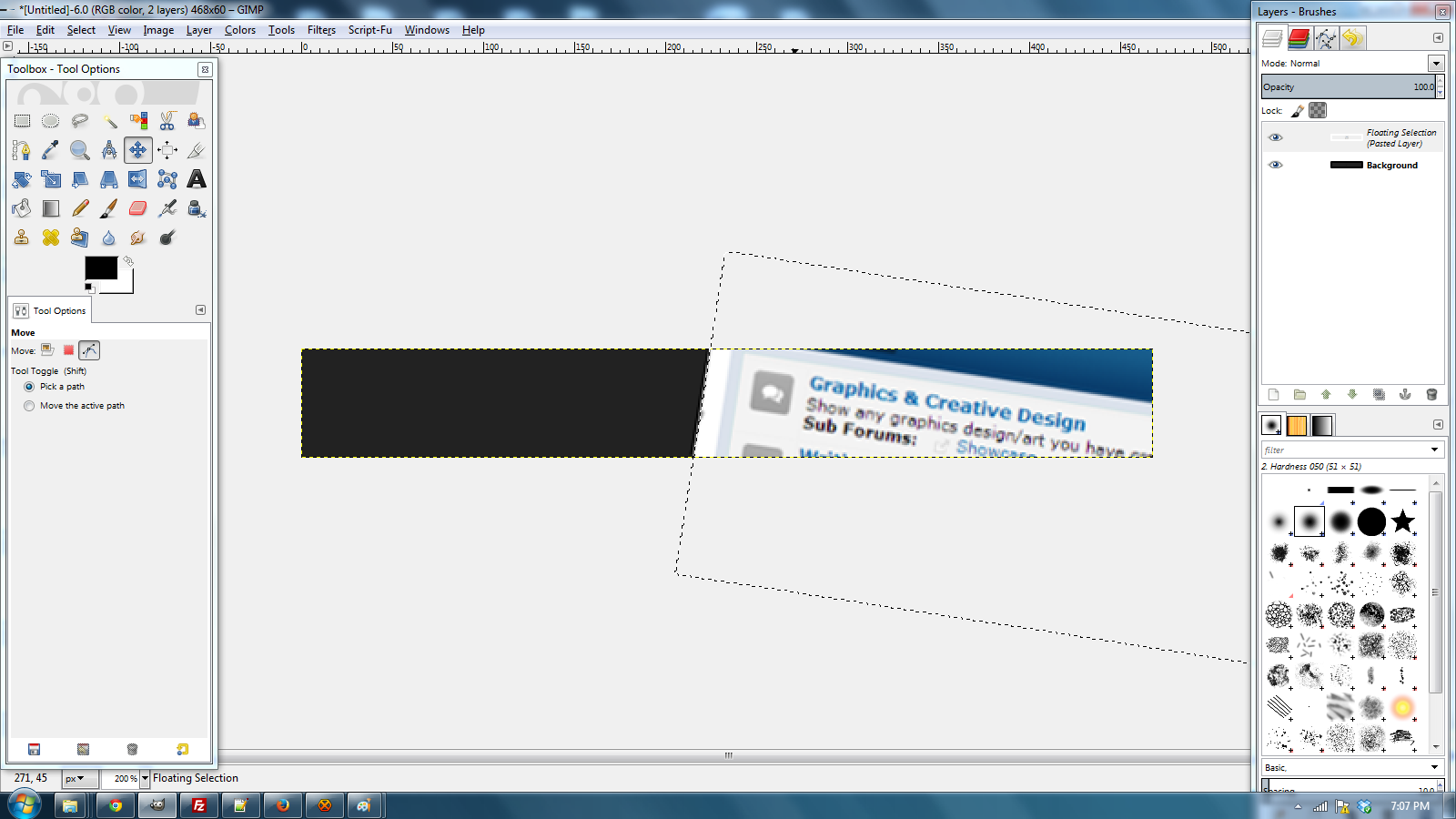 Use the move selection tool to align the final product.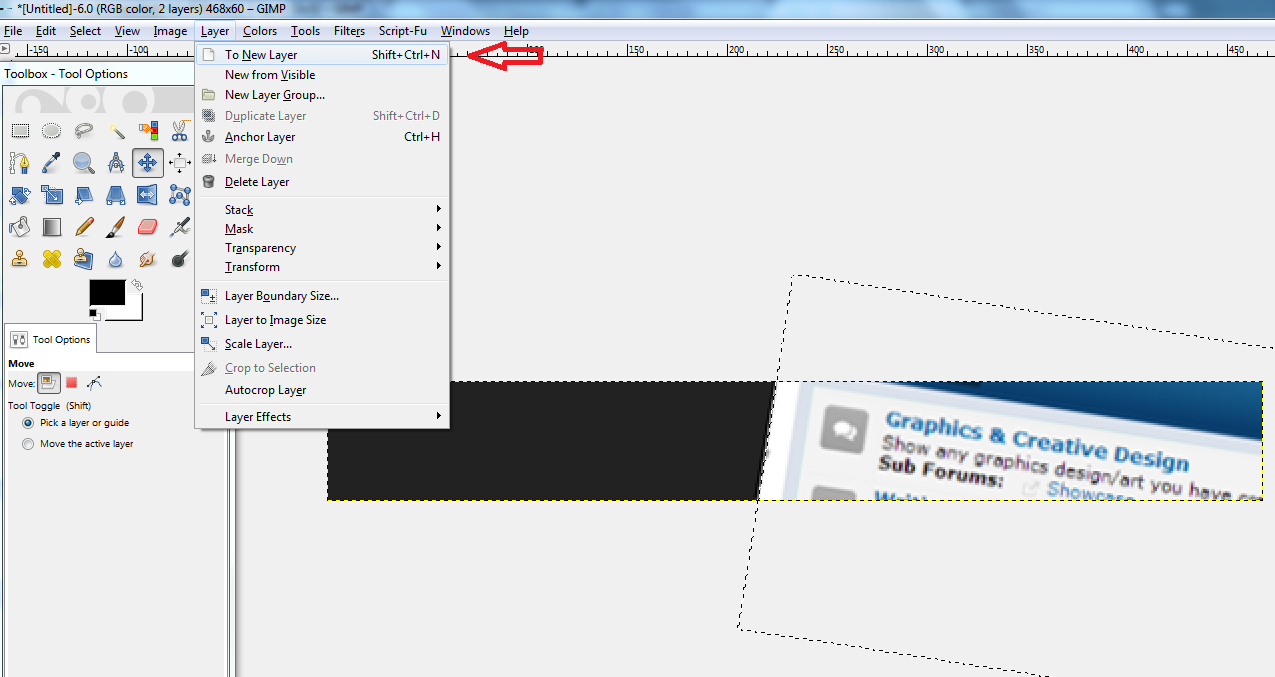 Once you're done, use the

layer -> to new layer

tool.
Step 8: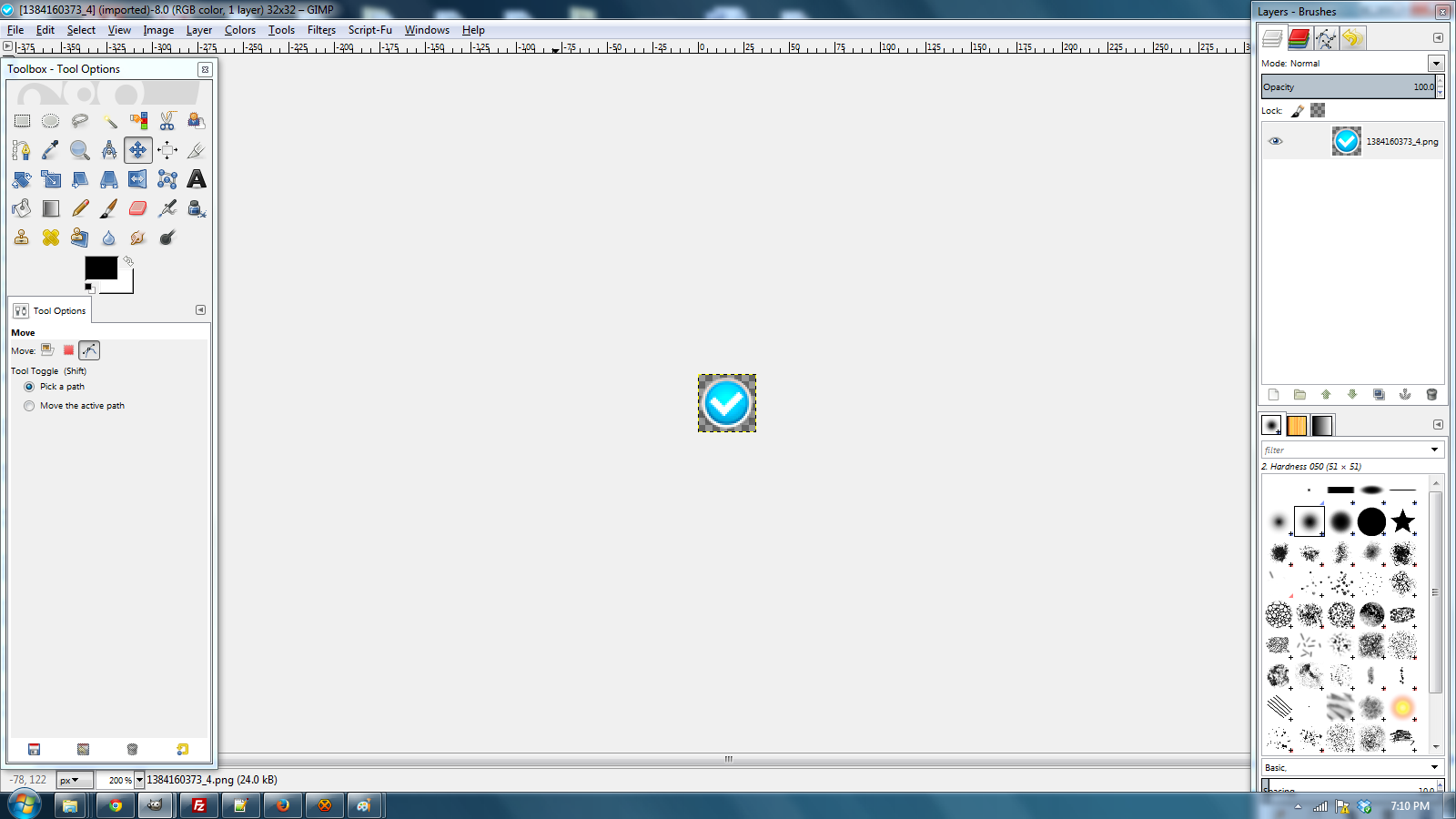 Choose an icon, and open it up in GIMP. (The icon should be at least 32x32 pixels, and generally not larger than 45x45 pixels. ) It is very important that the icon has a transparent background. Most icons from iconfinder already have transparent backgrounds, so this usually isn't an issue. Also, make sure not to open this in paint, as paint ignores the transparent background. Once you've opened your icon,

CTRL + A

and

CTRL + C

to copy the image's contents.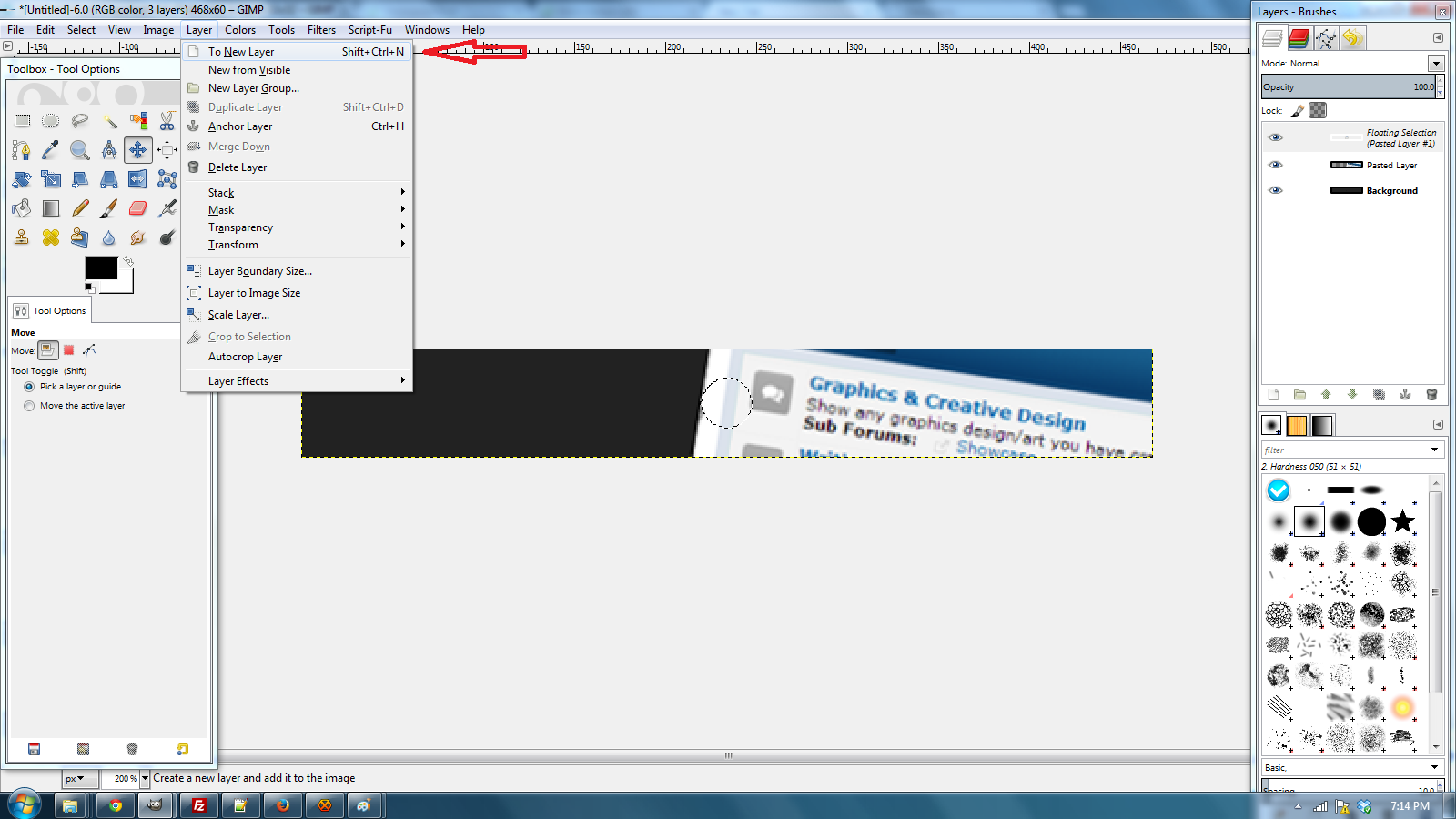 Paste the contents into your other opened image in GIMP using

CTRL + V

. Then use the

layer -> to new layer

tool to make the results visible.
Step 9: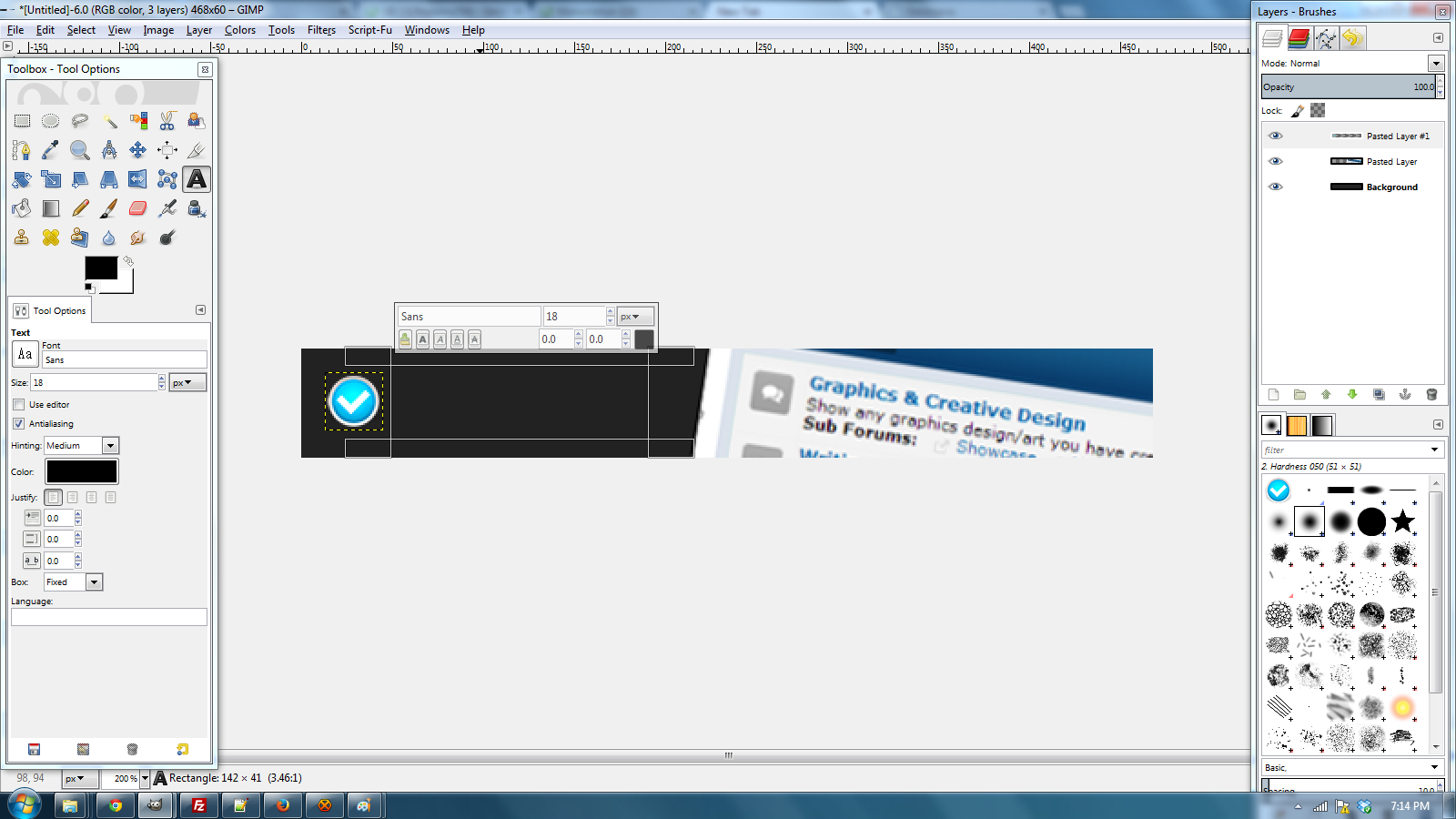 Use the move layer tool to move the icon as desired. Then open up the text tool and create a small text box.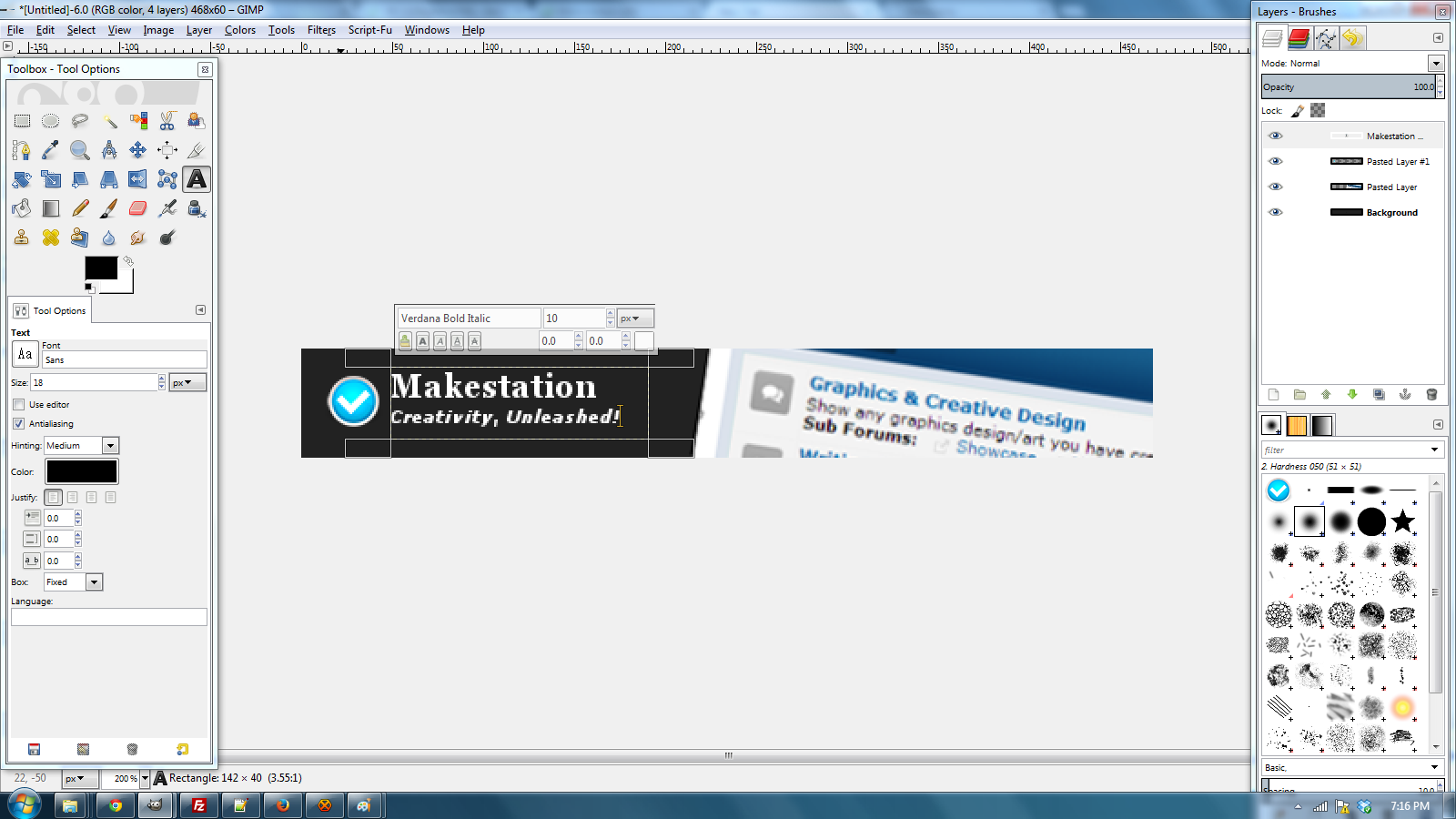 Add text as desired. You are going to want to set the text color to white, and be sure to make use of any fancy fonts that you like. As far as slogans, fonts, etc..., trial and error is the best method to use here.
Step 10: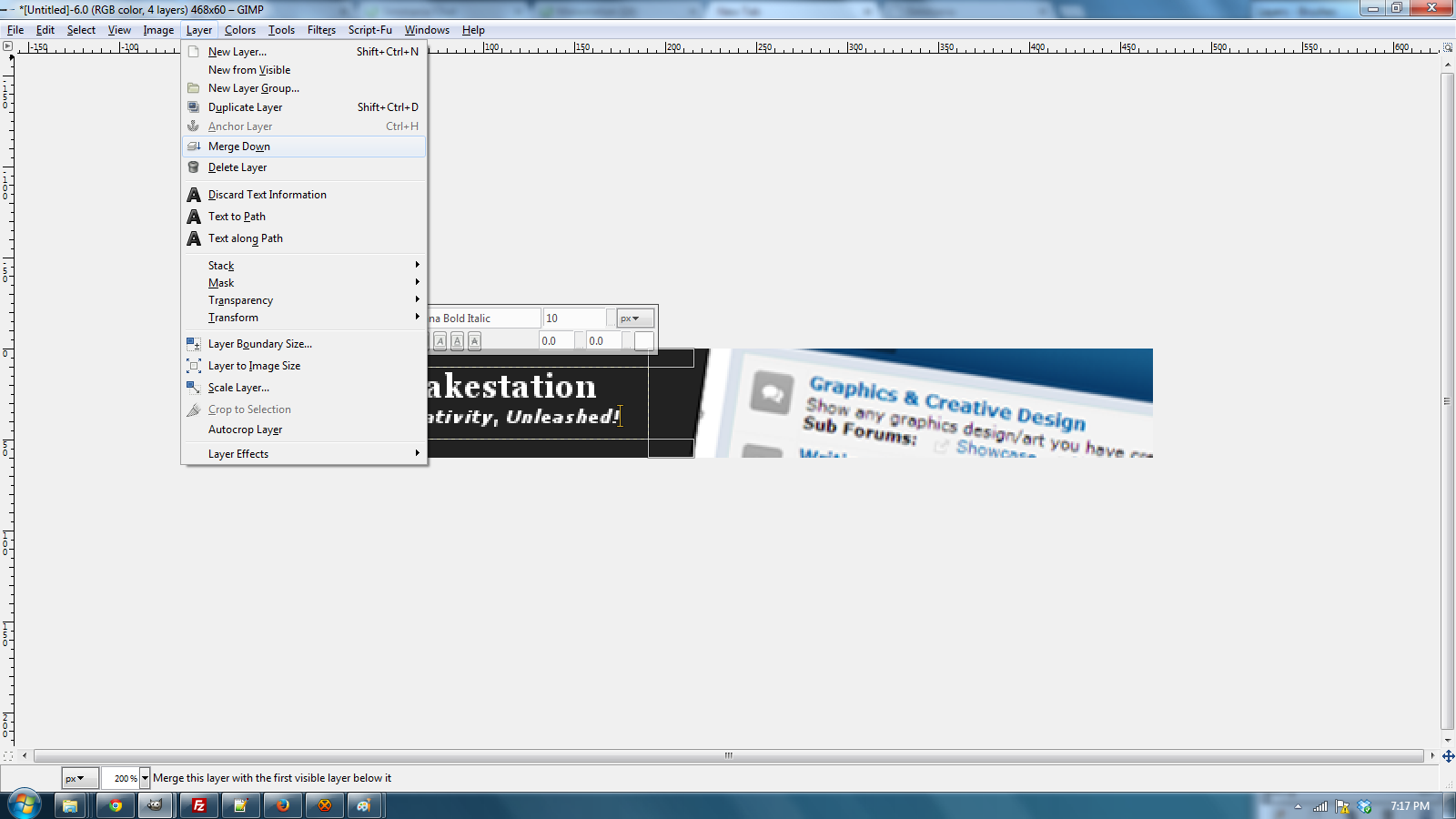 Use the

layer -> merge down

tool until there are no more layers to merge down. Make sure that you are happy with your icon placement and your text before you do this step. Alternatively, if you want to be able to go back and re-edit your text and icon placements, you can use a pencil tool to draw a black border, but you will need to edit multiple layers or create a new one, so the border step is simpler when all layers are merged.
Step 11: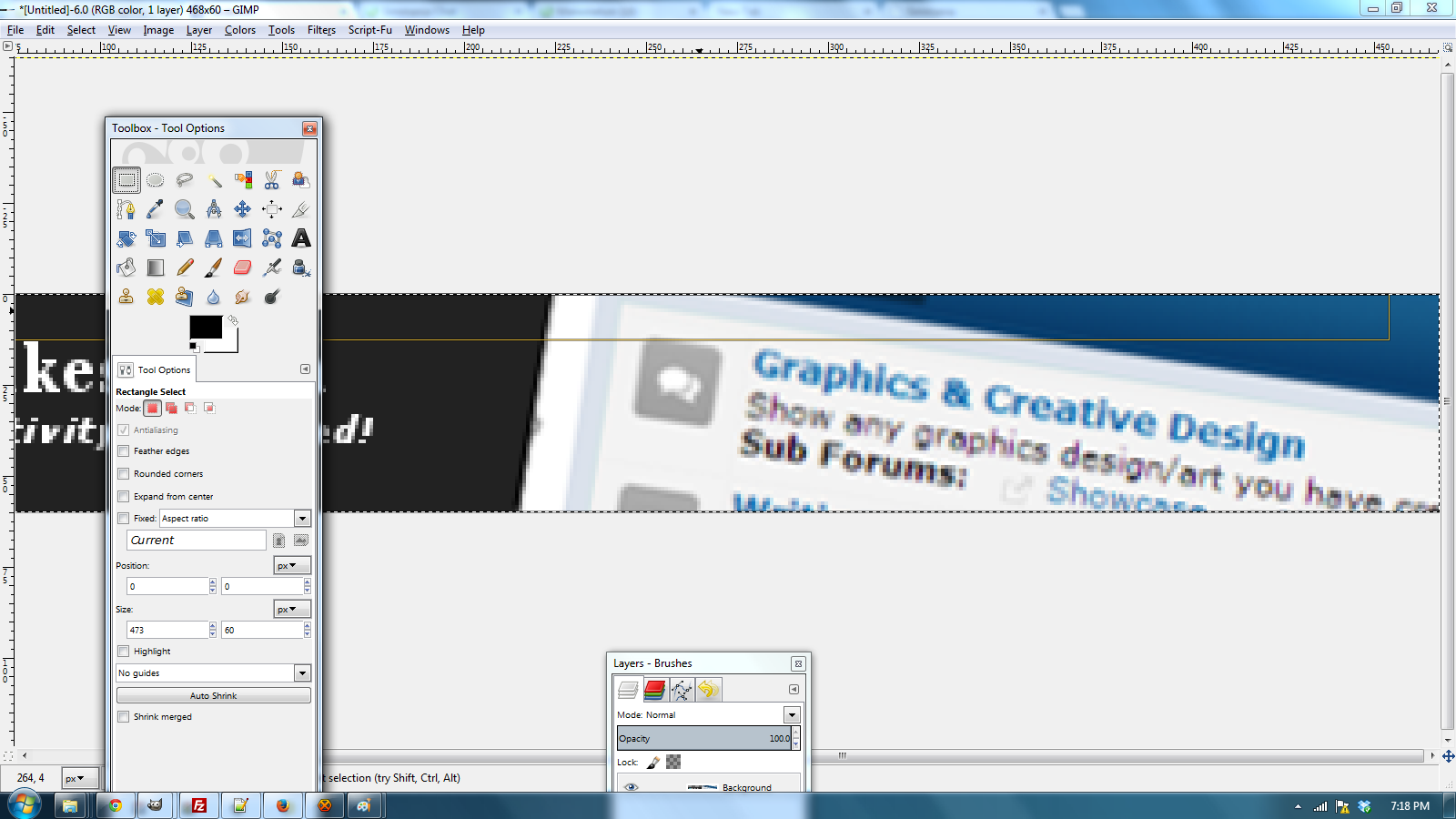 Once all layers are merged, use the rectangular select tool to select the full banner. Make sure to zoom in and correct the selection to include every pixel. It's important that this step is done exactly, or else the border will be off. It's usually pretty easy to eyeball this step.
Step 12: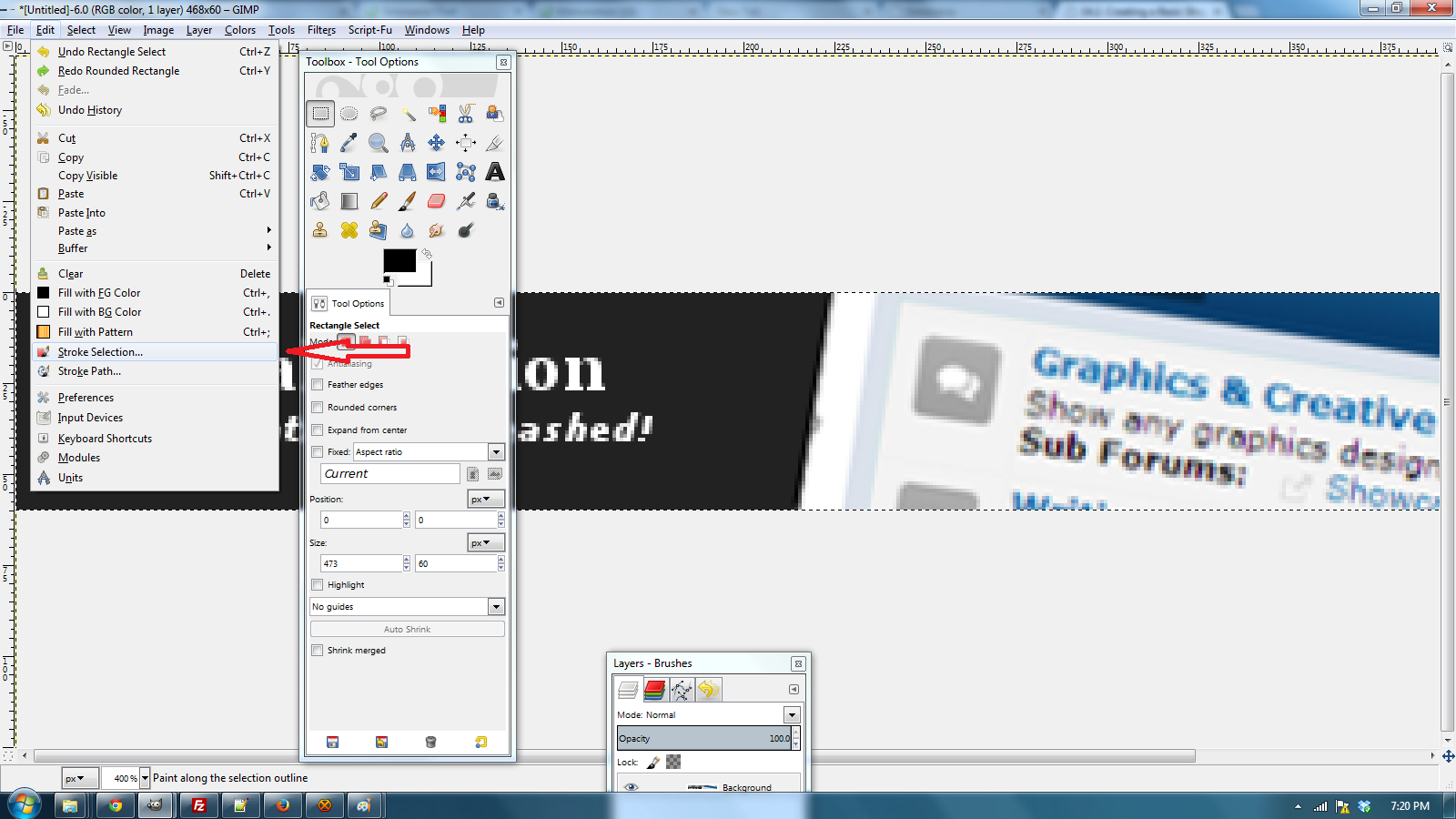 Once your selection has been corrected, use the

stroke selection

tool.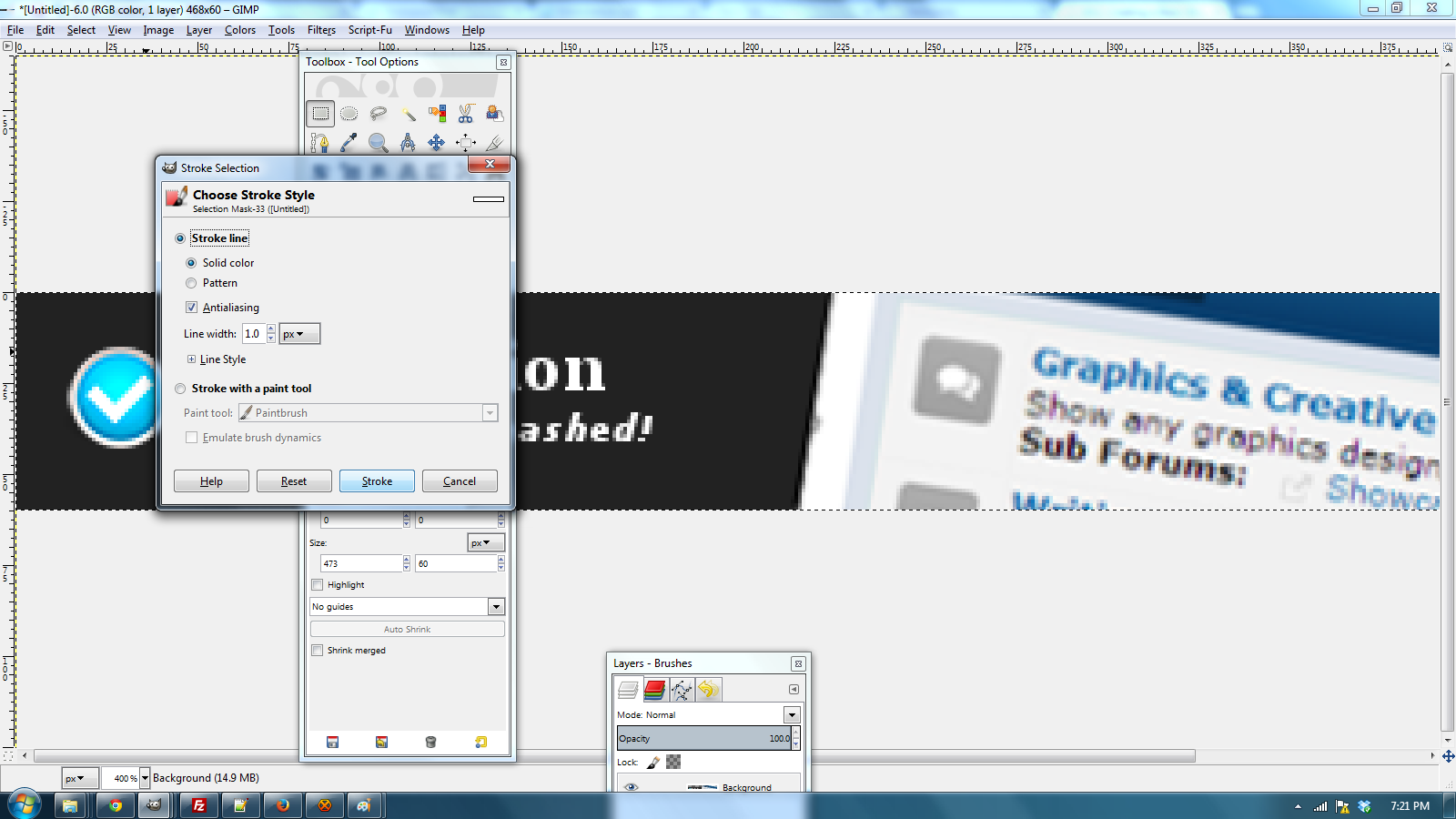 Once you've completed the use of the stroke selection tool, the final step is to export the image. I recommend using the PNG format as it avoids distortion that is typically created during a JPEG export. It should look like this once it is fully completed:

If it looks something like the above image, then congrats! You've created a simple advertisement banner for your forum/community/website! While it probably doesn't look amazing, it is a good start, and creating better looking banners uses the same concepts here. Experimenting with different fonts, paths, icons, etc... can make a large difference on the final product.

As always, if you have any suggestions, tips, or questions, feel free to post them here!
-Darth